Equestrian therapy for children with disability is one of the best ways to improve their abilities and skills. Dramatic improvements have been observed in the child's abilities as well as to his or her communication and motor skills upon subjecting the child to this kind of treatment program. However, a specific time frame by which an improvement can be achieved cannot be ensured. Treatment may yield positive results after three months and may last up to three years. The only guarantee is that equine therapy for disabled children brings hope for improvement.
One benefit of equestrian or equine therapy is the chance of a disabled child to experience environment of a horse ranch which provides an interesting set-up more fitted for the child. It is a better place to be than in an intimidating environment of a counselor's office. Disabled children who live in the city or in any urban community can really enjoy the rural setting which promises more of good healing effects.
Muscle tone is one physical aspect of a disabled child that needs to be corrected and learning to ride a horse can provide the needed healing for this physical defect. This is because riding a horse would teach the child to balance his or her body while enjoying the experience of riding a horse. The lack of coordination such as hand-eye of the child can be corrected while learning how to ride the horse. These positive results can be achieved through standard physical therapy but riding a horse can be a more pleasant learning experience to the child.
Equine therapy for disabled also trains a child to groom a horse which teaches the child comprehension and care for animals. A child can also learn how to conduct the grooming process as he or she better understands how to groom the horse. This adds self-confidence to the child while improving his or her decision- making and problem solving capabilities.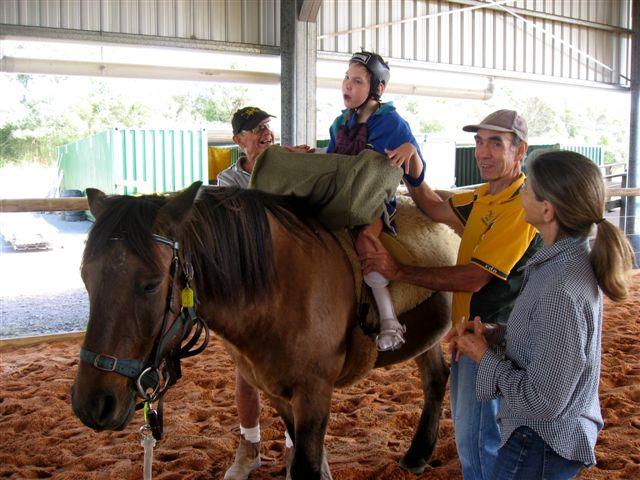 Specific disabilities that can also be improved by equine therapy are Down syndrome, multiple sclerosis, cerebral palsy, spinal cord injuries, brain injuries, spina bifida, attention deficit order, visual impairment and stroke.
An equestrian competition conducted in the Special Olympics and in the Paralympic Summer Games are not only competitions events but also serves as an equine assisted therapy for the physically and mentally handicapped individuals.