Canadian Therapeutic Riding Association (CanTRA) is a registered charity and a governing body for therapeutic riding based in Canada.
CanTRA was established in 1980 and now has more than 80 centers across Canada that deliver not only therapeutic programs but also provide life skills, recreation and sports programs to children and adults with disabilities. CanTRA is known as the only governing institution for therapeutic riding and also provides education and certifies instructors for horse riding therapy.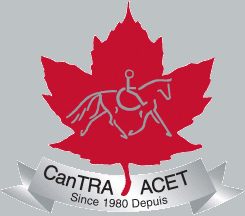 Each CanTRA center boasts of medical professionals who make sure that excellent service is delivered. Some centers offer physical therapy to disabled individuals using the movement of the horse influencing the rider's body. This treatment is known as hippotherapy.
Most  CanTRA centers focus their efforts on therapeutic riding, which allows interaction between clients and horses as well as recreation and socialization. Many of the centers also provide rehabilitation as well as life skills training while providing opportunities for employment to persons with disabilities.
The objectives of CanTRA is to provide therapeutic riding for disabled individuals in the entire Canadian nation. It has been successful in establishing standards for horseback riding as a therapeutic and recreational activity with the help of medical experts. CanTRA also provides coaching and horses for disabled persons who love to ride horses, training them to be competitive in the sport of equestrian in collaboration with the Canadian Para Equestrian Committee.
CanTRA also aims at promoting research in any aspect of therapeutic riding, maintaining high standards of registered Canadian Therapeutic Riding instructors, providing support to student instructions while offering a continuous educational program of conferences and seminars.
Therapeutic riding by CanTRA helps the disabled in the development of balance, coordination and mobility. The treatment also improves strength and muscle tone while increasing concentration and learning skills. The program also offers a challenging recreational experience, develops self confidence and motivation while providing independence, sense of achievement and integration.
For more information, visit a CanTRA center and start your child on therapeutic riding.
Canadian Therapeutic Riding Association
Address: 5420 Side Road 6, Guelph, ON N1H 6J2, Canada
Phone:+1 519-767-0700
Website: www.cantra.org