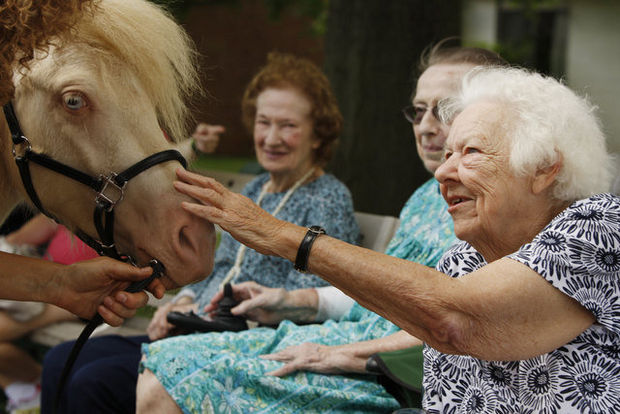 Equine therapy for the elderly is a very effective healing method for individuals, such as adults with Down's syndrome, elderly stroke patients or war veterans who suffer from post traumatic stress disorder. These individuals can enjoy the rewards of equine-assisted activities such as riding and working with horses through the rhythmic motion generated when riding on the back of a mobile horse. The bond produced when the suffering individual feeds and grooms the horse can heal emotional and mental wounds reliably. The team that performs equine therapy and safety to the elderly may be composed of an equine specialist and a mental health professional.
Equine therapy for the elderly is also known as hippotherapy for the elderly. The therapy uses the variable, rhythmic repetitive movement of the horse to provide a support base for the elderly suffering from impaired conditions, balance problems, poor posture control, lessened mobility as well as traumatic brain injury or stroke.
The manner of riding astride a slowly advancing horse mimics the usual walking gait of a human being. This allows the elderly to develop flexibility, postural strength and plus trunk.
The elderly patient also develops subtle muscle control as the horse changes its gait. The development of muscle control allows the patient to maintain a stable position in the horse saddle.
This therapy also allows the aged patient to develop coordination and timing accompanied by respiratory control.
The neurological systems of the patient are also cured such that each elderly can enjoy a functional daily life.
Other benefits of equine therapy for the elderly are psychological in nature. The patient can get rid of depression and anxiety while gaining self-confidence as well as improving non-verbal communication.A sense of isolation is reduced while enabling them to tackle greater challenges in life. A patient can even learn how to groom, feed and lead the horse while talking about his or her feelings with the designated licensed therapist. Eventually the ability of the senior citizen to conquer fear is achieved and physical demands of growing older are met appropriately.